Poly Desktop Telephones for Microsoft Teams Enterprise Voice
Simple and intuitive to use, Poly CCX Series helps users get down to work immediately. Personalize yours with the headset that suits your style—or use the traditional handset. It's your choice. Block out the office chaos and focus. Teams will be at their productive best in no time.
Legendary voice quality
Simple and intuitive
Designed for the way you work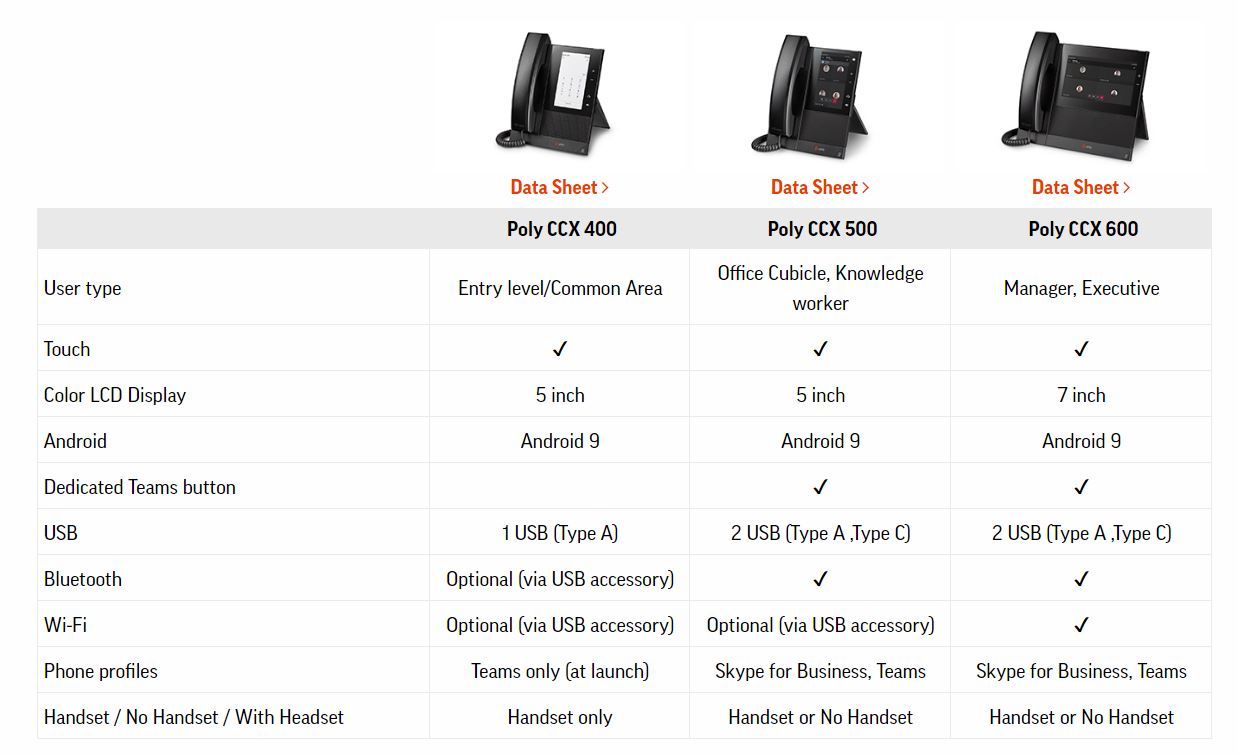 Will VVX phones that I already own work with Microsoft Teams?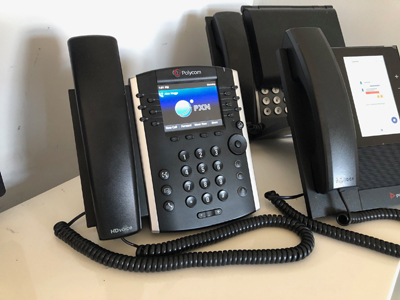 Poly 3PIP Phones certified for Skype for Business Online that are supported by Microsoft Teams include Polycom VVX Business Media Phones (VVX 201, 301/311, 401/411, 501, 601 and similar models as well as Polycom Trio 8800 and Trio 8500 conference phones. The Polycom Trio 8800 and 8500 (version 5.9.0AA) are certified for Microsoft Teams as a audio device, in shared mode.
All 3PIP phones certified for Skype for Business Online are supported by Microsoft Teams. The list of the features supported on 3PIP phones can be reviewed at a Microsoft Technical Community post Skype for Business Certified IP Phones with Microsoft Teams. Microsoft is also supporting new native Teams phones that run the Microsoft Teams IP Phone application on the phone. Older Lync Phone Edition (LPE) phones will not be supported running on Microsoft Teams.
Below is a list of the features supported on 3PIP phones is from a Microsoft Technical Community post Skype for Business Certified IP Phones with Microsoft Teams.
Authentication
Sign in with user credentials/Web Sign-in
Modern Authentication
Phone lock/unlock
Calling
Incoming/Outgoing P2P calls from/to Teams users
In-call controls via UI
(Mute/unmute, hold/resume, blind transfer, end call)
PSTN calls
Visual Voicemail
911 support
Calendar and Presence
Calendar Access and Meeting Details
Presence Integration
Exchange Calendar Integration
Contact Picture Integration
Corporate Directory Access
Visual Voicemail
Meetings
One-click Join for Pre-Scheduled Teams Meeting
Meeting Call controls - (Mute/unmute, hold/resume, hang up, add/remove participant)
Meeting Reminders
Add Skype for Business participant to ongoing meeting
Device Update and Management
Device Update
In-band provisioning
QoE & Log Upload
Common Area Phone Support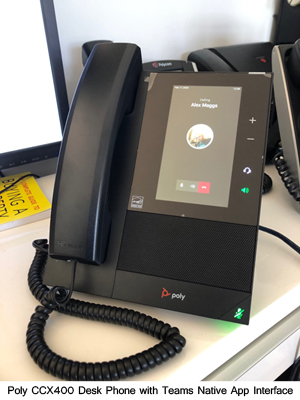 Which Polycom Phones will run Microsoft Teams natively?
Polycom phones expected to run Microsoft Teams natively will include:
1. Polycom Trio 8800 and Trio 8500
2. New Poly phones
New Poly phones planned for 2019 will natively run Microsoft Teams. We are designing these new phones for a native Teams experience with the next generation of features on the Microsoft Teams Roadmap in mind. The new Poly desktop phones will provide a similar touch-capable user experience that is consistent with the native Microsoft Teams experience on mobile devices and conference room devices. And the sound?— it's Polycom's legendary audio within arm's reach, with Polycom HD Voice, industry-leading full duplex echo cancellation, Polycom Acoustic Fence, and meticulously crafted quality.

I'm using Polycom Trio with the Polycom Visual+ accessory and camera for Skype for Business video calls. Will that work with Microsoft Teams?
Polycom devices when enabled for Skype for Business profile have a number of 3PIP capabilities available to them when interoperable with Teams. This is made possible via Microsoft's voice gateway, these features are listed below. Video capabilities are not possible as this gateway only supports voice functionality. Refer to topic, "What 3PIP phone features will be supported on the Polycom VVX phones and Polycom Trio after switching to Microsoft Teams." Alternatively, customers may repurpose their Trio hardware and attach Trio to a Microsoft Teams Rooms system such as Polycom + HP Microsoft Teams Rooms and benefit fully from a native Microsoft experience in their meeting rooms.
Will Polycom phones that remain connected to Skype for Business Server be affected as the customer makes their transition to Microsoft Teams?
There will be no change to 3PIP phones connected to Skype for Business Server. They will be able to join Microsoft Teams scheduled meetings and place calls with the experience and features detailed above.
Will Polycom USB connected devices work with Teams?
Microsoft Teams supports USB HID, with certain limitations in some cases. The Polycom USB connected devices can work with Microsoft Teams as follows:
Polycom Voxbox - Polycom VoxBox, as well as the Plantronics Calisto 7200, are currently listed as Microsoft Teams devices in the Microsoft Teams device online catalog.
Polycom CX300 R2 USB phone – The CX300 when used with Microsoft Teams client has some known limitations, which can be reviewed at the Microsoft article titled Control Calls Using a Headset in Teams.
Polycom CX5100 and CX5500 - There is no current support for panoramic video on these devices in Microsoft Teams. Without panaramic video, Polycom finds that the camera capabilities of the CX5100 and CX5500 continue to work, but only show the "active speaker" view in a Teams video call when connected to a PC.